It can be difficult to manage your assets when you aren't sure how many you have, or where they are. Unreliable public maps can lead to costly, time-consuming problems. In today's world of interconnectivity, it's not enough to simply know where your assets are. 
ZenduMaps is a mapping application that enables users to create public map links that are shareable and customizable. Map links can be designed to display historical trip data, vehicle location, compliance and vehicle behaviour events. In addition, ZenduMaps helps customers measure their fleet performance against compliance rules set across their fleet. 
A public map interface allows the city to import their data around their roads, which can then be used to organize routes for their drivers. While drivers navigate and work on those roads, fleet managers can see and review work in real-time. ZenduMaps takes into consideration more than simply where your assets are — with a few clicks, you can determine the compliance standards for any given road within city limits, the development of new or widening potholes or even how much road salt each truck is distributing on their respective routes. All of this data helps build a window into your current and future operations, leading to cost-savings and better distribution of resources.
From an automation perspective, ZenduMaps supplies an array of connected tools and features to build and share maps, allowing users to not only see activity in real-time, but report any new activity that arises:
The user-friendly map builder creates customized maps specific to your needs

ZenduMaps offers real-time updates of links and settings

Embedded or independent URLs can be integrated into new or existing sites

Advanced map features mean that you control what information the public has access to.

There are numerous opportunities for users to have input. Two-way integration means that your content is partially informed by the public, a critical factor in real-time data gathering.

Detailed visualization elements and graphics to help you with analysis and compliance reporting

With detailed trip reporting, you can track the rules, diagnostics, and vehicles under your care. Selecting a trip displays a mini-map so you can better understand your fleet's operations.

In the event of an accident, you can view route completion over a specific time range and determine the distance and speed of the vehicle in question.
This is a multi-marketplace solution that improves the productivity of vehicle tracking and road compliance for a host of different use cases, such as winter operations, road maintenance, construction, waste management and so much more. 
Building smarter cities
The main purpose of ZenduMaps is to solve problems that exist within the limitations of municipalities, mainly due to the scarcity of valuable resources. ZenduMaps integrates seamlessly into these gaps to ensure next-level road compliance and improved productivity. The result? Increased safety for public streets, vehicles and citizens. 
Here are just a few scenarios where ZenduMaps can improve your operations and productivity.
Winter Maintenance and Visualization
ZenduMaps ensures public safety by sharing valuable compliance data as a comprehensive map. Configure your public maps to display data such as vehicle location, weather reports, road status and compliance times. Improve the productivity of road compliance and vehicle tracking by showing your users when the roads were plowed, if they've been salted, and where the plows are in real-time.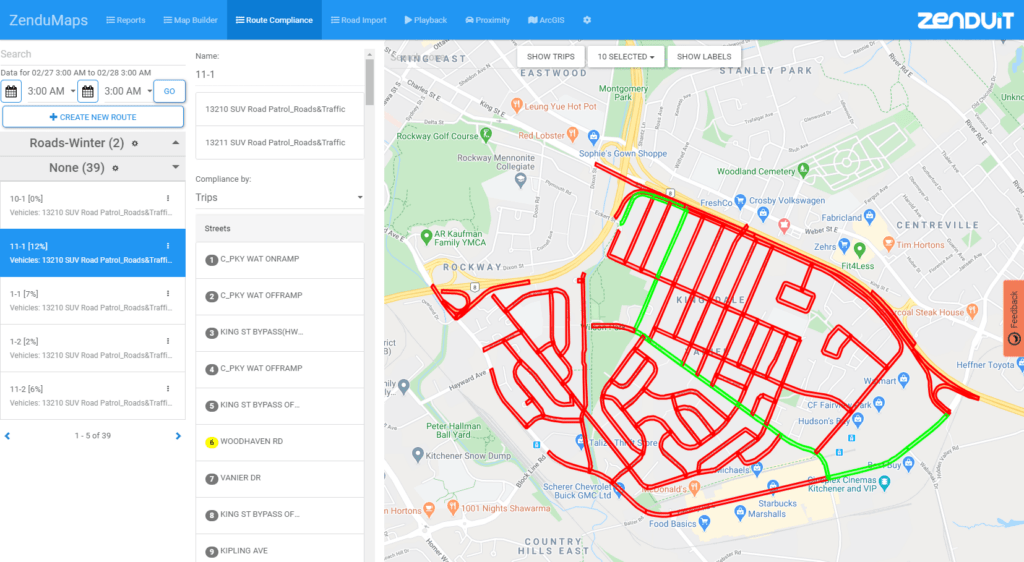 The winter maintenance solution provided in ZenduMaps is simple and effective. For instance, during winter, roads that have been plowed in 0-4 hours can be displayed in green to symbolize safety while roads that have been plowed within 4-8 hours can be Orange or Red to indicate risk or unserved road segments. 
Waste Management
ZenduMaps can help waste management agencies reduce administration costs and simplify other important operations, such as driver dispatch communications and reporting, while helping drivers adhere to routes.
Road Patrol
By integrating ZenduMaps with road patrol departments, efficiency and productivity are increased by helping users track the activity of their vehicles and measure compliance against rules set by the user.
Road Maintenance
Whether your drivers are fixing potholes or sweeping streets, with a click you can track any vehicle you've dispatched and make sure they're operating quickly, safely and efficiently. You can even track multiple vehicles in a location at specific dates.
At the end of the day, what matters as much as the business of maintaining a city is the fostering of goodwill between city-run agencies and their constituents. ZenduMaps allows you to control how much information is made available; by sharing road events live on a map, you can provide transparency with the public around roads that have been cleared of garbage, plowed or salted. These simple functionalities inevitably lead to big-picture insights about the city in which your vehicles operate.
Speak to you ZenduIT consultant today and book a free demonstration.