Currently COVID-19, or otherwise known as coronavirus, is a popular topic of discussion because of its quick and sudden outbreak that shocked many countries – providing them little time to find a solution. On March 11th, the virus moved so quickly and affected so many throughout the world that the World Health Organization declared it a pandemic. With it spreading at such a rate, small businesses were ordered to temporarily close their doors and the public was told to stop social gatherings, enforce work from home initiatives as well as participate in social distancing. During this stressful time, communities have become even more dependent on the transportation sector and those who deliver essential supplies and equipment. Below we discuss how the virus is affecting communities, how trucking specifically is affected, and how health status monitoring with tech-solutions can help keep communities safe. 
What Is COVID-19? 
COVID-19 is a serious virus that does not have a cure and requires laboratory tests to properly diagnose individuals. As doctors and scientists determine the virus to be highly intelligent, many are struggling to find a solution. When discussing symptoms, doctors say that even though the virus can be spread without any indication, typically, individuals who are infected will have symptoms similar to the cold or flu. More serious or noticeable cases will show symptoms of a high fever, difficulty breathing, pneumonia, as well as a cough – all of which can worsen over time. When symptoms are suspected and diagnosis is confirmed, typically individuals are recommended to self-isolate for 14 days, or if symptoms are serious, seek medical attention. 
Like with any medical information, it is always recommended for individuals to contact a professional in the field to gather up-to-date information. News about the coronavirus is always changing and has been reported to have unusual symptoms in some cases, so please contact a health professional if you would like to learn more. 
Health Status Monitoring 
As a fever or high temperature is a common symptom of coronavirus (and may go unnoticed in cases where an individual has no other symptoms) many are highlighting health status monitoring of symptoms (including high temperatures) to be one method to monitor for potential cases. Health status monitoring consists of periodically and continuously watching an individual for signs which are associated with current viruses. By doing this, many believe that individuals can personally monitor for common symptoms of coronavirus. So if a fever occurs, they can take the appropriate steps by self-isolating and looking further into whether they should be tested. 
Symptom Monitoring 
As previously mentioned, since individuals can go days without showing serious symptoms of coronavirus, the CDC recommends for temperature and health status monitoring to happen. This is particularly helpful for individuals who have recently come in contact with someone who was diagnosed with COVID-19 or is within an environment where the virus is common. It is recommended for individuals to monitor their body temperature two times a day, once in the morning and once at night, for at least 14 days (or ongoing in some cases). However, individuals should wait 30 minutes after eating, drinking or exercising, as well as wait 6 hours after taking medicines that may lower temperatures. These include acetaminophen (or otherwise known as paracetamol), ibuprofen and aspirin. 
Image Source: CDC; CARE, Check and Recovery Everyday
If an individual is monitoring their temperature and record a fever (100.4°F/38°C or higher) or have a cough and trouble breathing (additional symptoms), the following is recommended: 
Begin to self-isolate to further prevent the spreading of a virus 

If symptoms persist, contact a local health department, or if they can't be reached, contact a doctor's office and/or emergency office over the phone to discuss symptoms and coordinate a time to visit

Avoid contact with others – this includes family members and/or roommates

Do not travel

When coughing or sneezing, cover your mouth and nose with a tissue or your sleeve

Continue hand washing often with soap and water for at least 20 seconds (or use alcohol-based hand sanitizer that contains at least 60%-95% alcohol) – this will help prevent spreading
For additional information regarding symptoms, please visit: https://www.canada.ca/en/public-health/services/diseases/2019-novel-coronavirus-infection/symptoms.html
To take the self-assessment tool offered by the Government of Canada, please visit: https://ca.thrive.health/ 
How The Trucking Industry Is Impacted By COVID-19
As many individuals are practicing social distancing (or are self-isolating), more strain is on the transportation sector to deliver goods. With more demand growing for essential supplies and equipment, transportation companies must be able to safely and efficiently complete routes. Meaning, they can't practice the required social distancing as much as the general public. With this being said, drivers and those handling shipments and goods risk exposure or even unknowingly spreading the virus when they perform their daily jobs. So to help increase health and safety throughout this sector, health status monitoring solutions should be taken advantage of to protect fleets and everyone who may come in contact with the driver. 
About ZenduCheck 
ZenduCheck is a solution that helps to monitor health status in the form of a virtual and digital logbook. It focuses on allowing individuals to have an electronic space to store and record their daily temperatures. As well, it alerts users if a high temperature or fever is detected while providing useful information on what to do if a high temperature is recorded. 
How ZenduCheck Can Help Keep Fleets Safe 
The health status monitoring solution is an application that can help fleets boost their safety during this time. As it acts as an additional process to limit individuals unknowingly working while demonstrating symptoms not only of the coronavirus, but illness in general, it can reduce the likelihood of any viruses spreading. This is critical as drivers are delivering essential supplies and if they unknowingly move cargo while infected, it could potentially spread to people in the communities they're trying to provide relief to. 
With ZenduCheck, drivers are required to take their body temperatures and monitor their health status during their pre-trip inspection in addition to periodically throughout the day as requested by management. Once the temperature and possible symptoms are entered into the system via the driver's smartphone device, the application will input the data and notify the driver if they have worrisome symptoms. If they do, they will be alerted instantly and directed to call their manager to discuss next steps. Typically these steps include stopping all work activities until further notice to reduce the spread of germs. As well, at this point, drivers will be provided with tips of what they should be doing to limit the spread of any viruses. For example, performing social distancing, coughing or sneezing into a tissue or their sleeve, as well as participating in self-isolation. Links will also be provided to important resources or company-specific bulletins that the driver can refer to if they would like to gain more information regarding health and safety.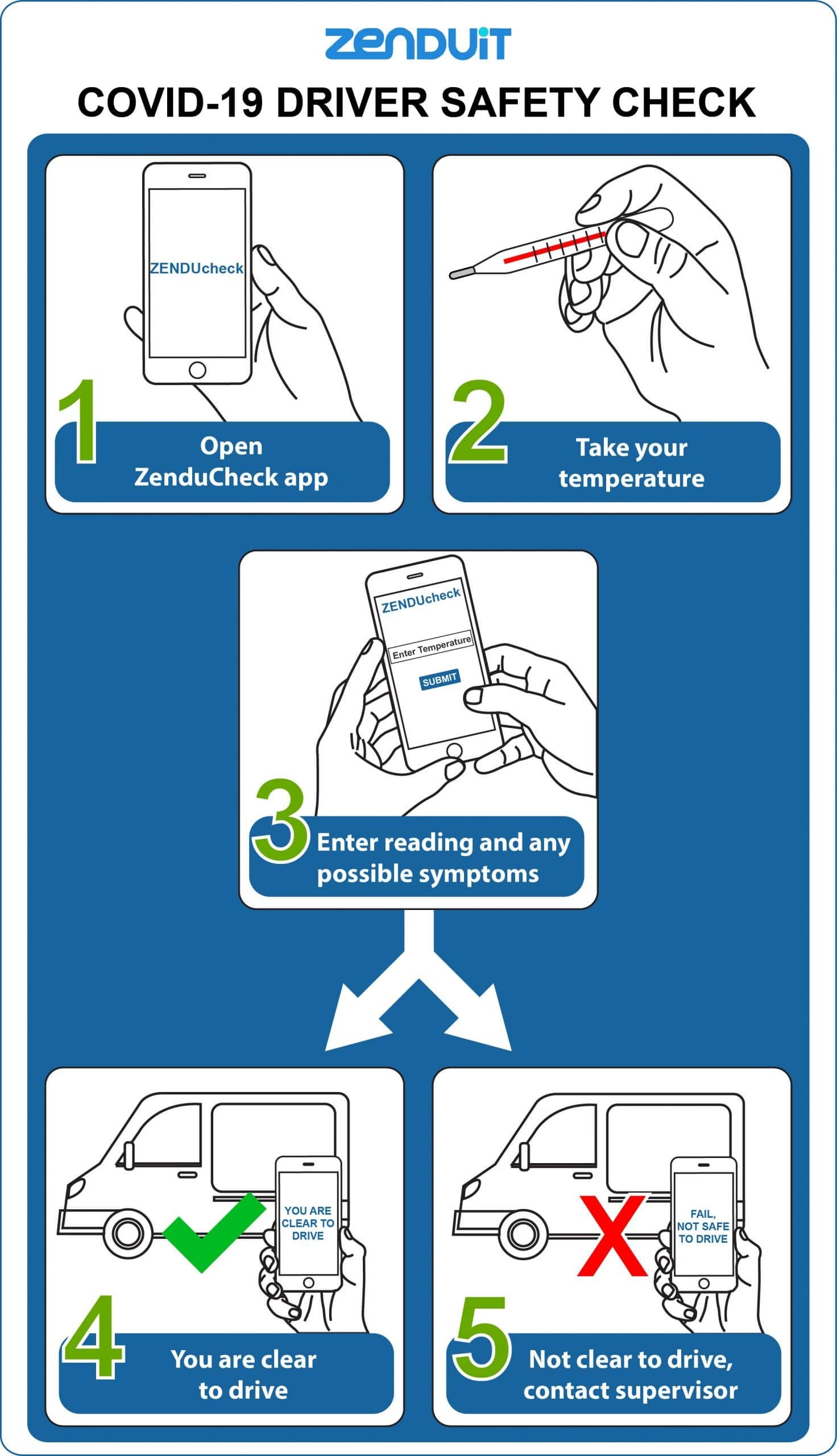 How Were Helping To Protect Fleets 
To help show our appreciation to everyone doing their part to provide relief to communities, we are notifying businesses about ZenduCheck. By implementing this free digital industry-specific health status monitoring tool, fleets can feel a little more comfortable while they're dispatching their teams. Not only can they spot common symptoms of the coronavirus, but they can further reduce the spread of various viruses.
If you're interested in learning more about ZenduCheck or what other solutions are available for businesses helping to provide essential supplies and equipment during this time, contact [email protected] As a way to help, we are working with organizations to offer them the tools they may need to coordinate teams more efficiently during this stressful time.