New products and features are being developed to improve user experience.
Mississauga, ON – March 29, 2021 – This month, ZenduIT is releasing numerous updates for its products. The ZenduCAM/Trax platform will be receiving changes including Facial AI, UI refresh, and other features to improve efficiency. Along with that, we will be launching the ZenduOne Mobile App and updating the ZenduTime Card App.
ZenduCAM/Trax
This month, many updates are coming to ZenduCAM/Trax including facial AI, a Trax UI update, a delay option for video rules, a shortened speed & acceleration graph timeline, an exception link in email, and expiration of link shares.
Facial AI
Fleet managers/supervisors will be able to automatically assign drivers to exceptions videos/images. This facial AI feature is designed to save time when reviewing events.
Managers/supervisors can manage videos and images of specific drivers:
Trax UI Refresh
The Trax platform will undergo an UI update to improve consistency and provide better navigation for users.
Delay Option For Video Rules
Requested delays during rule creations will be available soon in order to avoid video-less events for triggers where the camera isn't recording when an exception is triggered such as "ignition on".
The delays can be requested like so:
Shortened Speed and Acceleration Graph Timeline
Coming soon, users will be able to view a shorter speed and acceleration graph which is more precise to improve the evaluation process of events.
The new Speed and Acceleration graph can be seen below: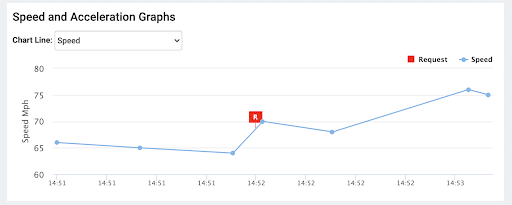 Exception Link in Email
Avoid getting video-less event notifications in your email and receive an exception link directing you to the specific record on the Trax platform.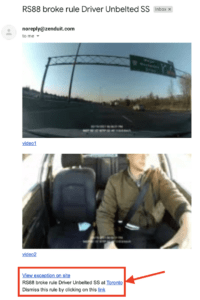 Expiration of Link Shares
Shared links will now expire within 30 minutes after the destination has been reached for the corresponding trip.
ZenduOne Mobile App
The ZenduOne mobile app will be available soon where users can access all of the ZenduIT apps on one platform.
ZenduTime Card App
The ZenduTime Card App now has a reworked UI to be more user friendly. There are also new features added such as the new dashboard that allows managers to view daily reporting of their employees and export the reports in either Excel or PDF format. Users are also able to edit incorrect timings of employees. Managers can also customize their report notification schedule with the preferred time and frequency. The notifications will be sent to the user's email address with the respective clocking times of the employees.
About ZenduIT
We develop intelligent fleet and field service solutions by leveraging our expertise in IoT software development, fleet management, and consulting to help our clients see measurable results. We focus on improving efficiency, profitability and overall success through the use of customizable telematics technology.
To learn more about ZenduIT's products or offerings, please visit: www.zenduit.com or call 1.855.936.3848