Operational congestion can become expensive and businesses are often unsure of how to stop the costs from spiraling. When unresolved, congestion in highly localized environments results in a backlog of stationary assets to cause paused operations, delayed projects, lengthy completion times, and higher operational bills. Below we can discuss operational congestion and how telematics data can help ensure productivity and streamlined operations. 
Understanding What Triggers Congestion 
Operational congestion affects mostly highly localized environments—self-contained areas with very few and specific routes for transportation. These environments can include airports and warehouse distribution hubs that have specific routes and predetermined travel speeds listed for vehicle movement. During peak hours when asset demand is high, it is common for numerous assets to need to use the same routes. This results in a backlog of movement and delays in what work can actually be completed. Often, these issues are not addressed which leaves corporations at risk for continual work disruptions. 
When discussing localized environments, even if businesses prepare by providing ample allowance, inevitable delays can still prove too costly to ignore. In the long run, if these congestion issues are not addressed, many of their resources can go to waste, and even result in staff inefficiency. The result is mounting costs. In fact, tolerating this not only stifles operations or production levels but can also cause a ripple effect that can hurt customer relations. The long wait times will result in higher service costs and customer dissatisfaction. 
Airports: A Localized Environment At Risk For Operational Congestion 
Airport grounds are one of the busiest roads there are. With continually moving assets, stop-and-go movement during taxiing of planes and round the clock operations – they are at risk for operational congestion. The goal is to optimize traffic flow on the ground and reduce the wait times of assets in detention.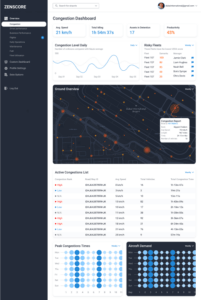 Addressing Asset Detention 
The most logical way to handle such a problem is to take it head-on. Assets can be equipped with telematics solutions that will tell exactly how the asset or equipment is being used, track location data, and more. With the new data points, businesses will know exactly what happens when their vehicles are delayed or held back. They now have more visibility into their operations, giving them the flexibility to adjust or react to external factors. 
Telematics To Reduce The Risk Of Operational Congestion 
Telematics allows for the ability to monitor various assets and industrial equipment within specified locations. When looking at operational congestion telematics is critical to implement as knowing the location information of an asset can give insight. 
Fortunately, a model has been found that addresses operational congestion, even in localized environments. The model pinpoints where congestion is occurring and analyzing the time, date and asset type that is involved. By doing this, a congestion management strategy can be created to solve and stop congestion before it happens. 
Get a Better Understanding of Operations to Get a Grasp on Operational Congestion 
In a localized environment, it is critical to list what factors led to congestion. Analyzing the time and dates to gain insight to underlying congestion issues can allow managers to change operation procedures in attempts to avoid congestion in the future. 
Data collection is where telematics comes in. Even for airport resource management, data plays a significant role in what actions should be taken or what solutions should be brought to solve it. Route data, asset status, priority levels, and more can be taken using the built-in telematics device in your fleet. Even without the use of Google Maps for warehouse hubs or airports, you can still get optimumized routes to avoid problems by using telematics solutions. Most importantly, you can establish a congestion management strategy that the whole business should follow. 
What Is A Congestion Management Strategy? 
A congestion management strategy pinpoints the pain points of your operation, coming up with solutions for multiple scenarios, and of course, leverage telematics in order to truly succeed. Typically, a congestion management strategy will require fleets to install and implement GPS and engine tracking telematics solutions throughout their operations. Once this is complete, data can then be collected on an ongoing basis and presented on a heat map to shed insight to how operations are performing and when congestion may be happening throughout the day. Once this information is collected, a new strategy for how assets should travel can be implemented. 
Often in airports, congestion is found to happen during high traffic or demand times when more flights are landing or departing. This is because more assets are necessary to service the influx of aircrafts at the same time on the same route. 
A strategy requires fleets to reallocate their assets and strategically deliver traffic on alternative routes. This will help ensure that operations are continuous, and productivity remains optimal. It is important to highlight that in addition to creating a new strategy in how vehicles should travel, proper implementation of the new procedures must happen. By using online learning platforms like ZenduLearn – you can leverage the platform to communicate the new regulations on driving routes or other congestion reducing rules. 
Building A Strategy For Any Industry 
It's rare to see an industry where assets are constantly on the move to not have a major congestion problem. Without proper knowledge about operational congestion, you won't be able to properly track and manage your assets. But knowing about and locating the problem is only the first step in solving it. You need to equip your help with the right tools for the job; to gather data on every trip or delivery and use it to solve problems as they arise. 
Contact us today to learn more about how a congestion management strategy can work for your unique business.