Telematics and CRM software solutions are powerful tools. As they both focus on improving the visibility of company operations and improving financial performance, many businesses already have these programs in place. However, when businesses focus on integrating and combining CRM with telematics, the benefits are intensified and many can expect to notice 6 powerful benefits.
Telematics Data On Its Own 
On its own, telematics data can offer businesses improved insight about their efforts. When focusing on fleet-based businesses, telematics data and solutions typically focus on improving general operations and vehicle utilization. While this has become a major topic of discussion for large-scale fleets in the commercial transportation sector, the information that solutions pull is still relevant for any vehicle-based company. In brief telematics can gather the following information about a fleet: 
GPS location of vehicles

ETA of deliveries 

Driver performance or driving habits 

Necessary upcoming maintenance 

Engine error or fault codes 

Tire pressure 
CRM Data On Its Own 
When discussing CRM data on its own, it is praised for the organization it can allow. Specifically the organization that is required to coordinate customers (or potential customers) and sales representatives efforts. While CRM software varies, typically it allows for sales efforts to be recorded in terms of outcomes in addition to monitoring sales and other engagement. By using CRM solutions, all of the customer information can be stored in one location, allowing you to make strategic efforts in reengaging them.
What To Expect When Combining CRM With Telematics 
1. Proper Cost Tracking Of Field Service Work Orders
For businesses who have field service work orders, managers can expect to see an improvement in how they track the actual cost of this part of their business. By combining CRM with telematics software, exact data relating to the mileage and hours-of-service is recorded. Meaning, there is more accurate reporting about how teams are performing on the road. In addition, geofencing applications are able to be used to coordinate worker location by monitoring and assigning territory space.
2. Offer Real-Time Delivery ETA
By using historical shipment data from telematics solutions, businesses can align similar upcoming shipping timelines to previous orders and provide customers with accurate ETA's. Additionally, depending on the dispatching solution being used to deliver items, businesses can moreover increase the accuracy of the estimated arrival. ZenduWork for example, is a fully integrated visual management tool that focuses on doing this. Once implemented, ZenduWork allows for better and more reliable delivery times, in addition to driving ripple effects of further reducing costs and improving overall productivity.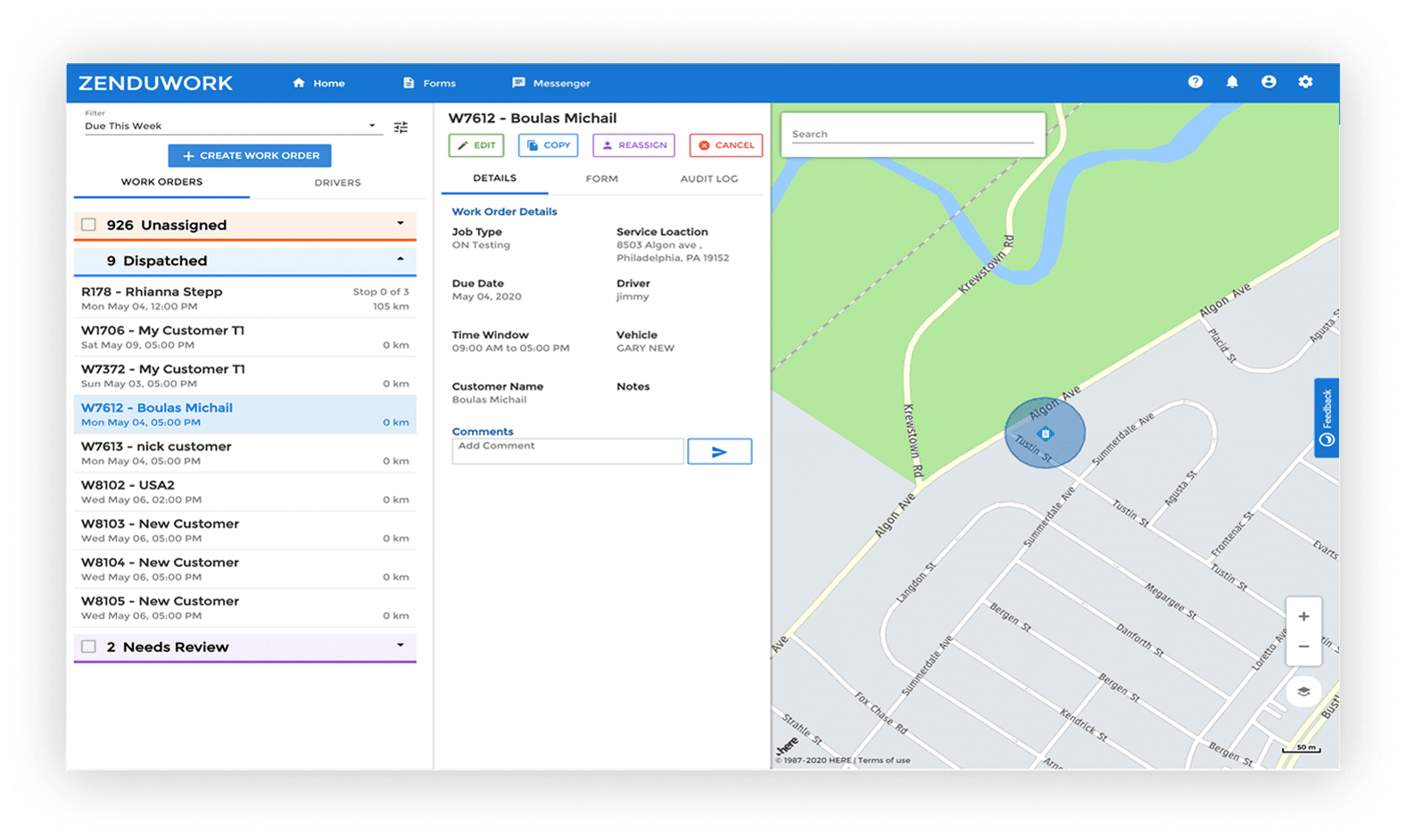 3. Vehicle Cost Comparison
Over time, vehicles not only depreciate in value, but typically have increasing costs related to repairs or maintenance. For some, it may not be financially sound to keep the same vehicle for an extended period of time because in the long term, it may begin to cost fleets more to keep it rather than to trade it in for a newer model. This comparison of the cost of vehicle ownership (repairs, maintenance, monthly payments) and sales revenue can be performed when combining CRM with telematics solutions.
4. Optimize and Connect Delivery Routes With Driver Availability
To remain profitable, businesses who offer delivery must always take the most efficient route. Whether it's taking the shortest route, the route with the most deliveries, or the route with the least amount of street traffic, optimizing routes can make a major impact in cost-saving initiatives. This is automatically done as work orders, customer delivery addresses, available drivers and available vehicles are compared to determine which one would cost the least amount of money and use the least resources to complete the order. This is possible by using dispatching software, such as ZenduWork, with CRM data.
5. Customer Notifications
With the use of historical traffic data, businesses can gauge whether route ETA's have changed and automatically notify the customer of such delays. This is done by monitoring the GPS location of vehicles completing routes and monitoring the time it takes to complete the route, then comparing the completion time to previous times. Sometimes, fleet managers may find that these routes are taking slightly longer as there are road delays like construction. Having data that displays this can allow managers to then automatically relay the information of possible delays to future customers by using the CRM customer account information already on file. 
6. Workflow Automation
Powerful workflow automation is possible when telematics data is used as a trigger to provide real-time updates to all stakeholders in the logistics process. A typical example of a workflow when discussing dispatching is sending digital invoices to a customer upon delivery. Similarly, many fleets are even experimenting with the positive reaction of being able to send customers text messages when drivers are en-route and when drivers are soon approaching to ensure transparency during the delivery process. 
The initiative of combining CRM with telematics can have many powerful benefits. Not only can automated workflows improve the experience of their customers by boosting communication and expectations, but cost-saving initiatives can be implemented by making calculated business steps. To learn more about how you can use this kind of integration to reduce operational costs, contact us and a consultant from our team will work with you from start to end to find the best solution for you. We specialize in creating custom solutions that leverage real-time data to help businesses streamline efforts and improve visibility.