Asset trackers have a long and storied success rate of providing visibility into business operations on and off the road, saving companies time and money in the process. Occasionally, gaps occur when fleet managers incorporate a tracking solution that doesn't quite fit the size and scope of their operation. It allows fleet operators and business managers to do their due diligence and thoroughly research business solutions, while partnering with the right consultants.
Below, we'll discuss ZenduIT's latest offering, Trax Indoor, an asset tracking solution that gives users visibility of moving indoor assets, while working synergistically with existing outdoor tracking systems. Trax Indoor is intuitive and completely scalable, with no upfront hardware costs and is available June 30th
Why Use Trax Indoor For Indoor Tracking?
When you think of asset tracking for fleets, what typically comes to mind are those assets on the vehicles; drivers, vehicles and payloads. Across the board, a common complaint from businesses of all sizes is an inability to locate assets, either through loss, misplacement or theft. Asset loss impacts usage, affects ordering decisions and accounts for the majority of overspending due to duplicate assets. 
Equally important to knowing what assets a business has is the available data surrounding their usage. What are the current inventory levels? What is the current temperature of cold chain assets? What are the humidity levels? Are all assets being used to their fullest capacity? Regardless of the industry your fleet and business are a part of, ZenduIT Trax has a comprehensive solution to gauge, monitor and quantify your assets.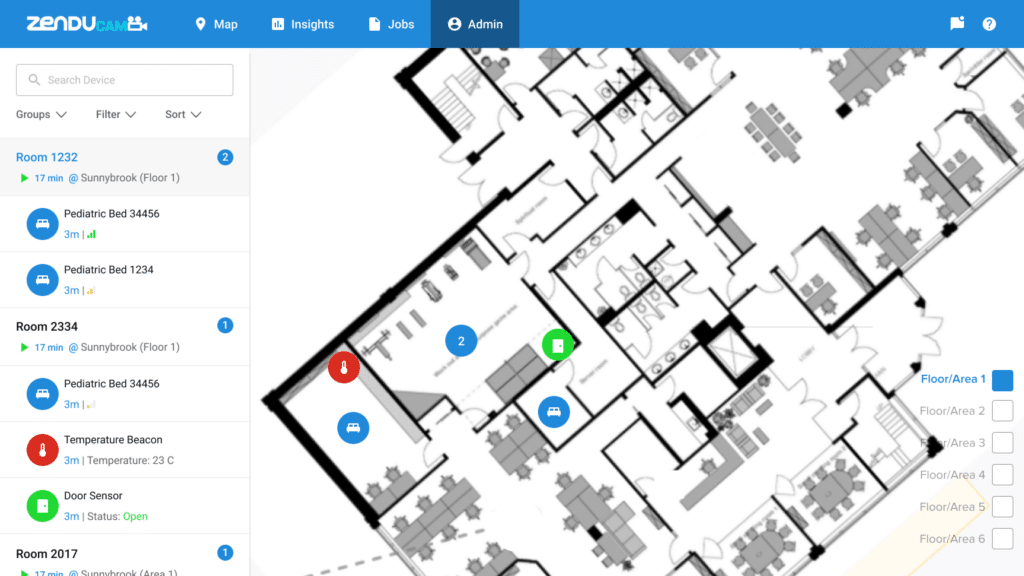 Hardware
Trax Indoor employs a roster of Bluetooth Low Energy (BLE) Trackers, or "beacons". Depending on your business requirements and the assets you're looking to measure, the beacon is placed on a wall or directly onto an asset, then paired with a sensor/reader to monitor the asset's behaviour. For example, a temperature sensor placed on a wall could monitor cold chain assets, or a beacon could be placed on a forklift to track its usage (or misplacement) in a factory. 
There are a multitude of applications for BLEs, including:
Manufacturing

– tracking equipment, making sure assets are in the right workspace

Hospitals

– tracking beds, equipment and tools

Warehouses

– tracking indoor vehicles (such as forklifts), office supplies and equipment 

Live Assets:

Any situation that requires passenger counting or people tracking (drivers, patients, nurses, etc.)
There are four main ZenduIT Indoor tracking features that can be leveraged with Trax Indoor:
Personal Cards: for access and opening doors

Temp Beacons: gauges the temperature / humidity level in a room

General Purpose Beacons: Can be applied in a location or on specific physical assets

Panic Buttons: Can be triggered to send an alert in the event of an emergency
Readers are typically assigned by room and can scan/read up to 50 meters of unobstructed space. They scan and communicate every second, communicating with the beacon to provide notifications, alerts and detailed data to the server. The best part? These readers have a simple plug-and-use feature. All readers have a plug in the back to attach to the wall, and an outlet on the front end so you can keep using the outlet feature while the reader continues to scan and upload data to the cloud.
What's more, many of the Trax Indoor beacons measure not only the usage of the asset, but can take measurements from the asset itself. David Herrington, Product Manager at ZenduIT, says "There's really a tracker that you can use for anything. It's very easy to add a BLE tracker to our ecosystem. So you can plug into a forklift and you can understand, for example, not just where the forklift is in the warehouse, but the battery level of that forklift as well."
BLE beacons provide accurate utilization data so that you can make purchasing decisions while tracking assets throughout your business processes. These indoor use trackers make it simple to find inventory, equipment, tools and provide real-time data about the assets you already have.
Software
Beacons and readers are added to your work spaces, where they can be added and listed online via a Mac ID. From there, a floor plan can be added and readers are virtually "placed" around the plan, allowing you to view assets on an indoor map and search by either beacon or by room, all in real time.
Reporting
From these data sets, business owners can receive individual reporting on a per-beacon basis. Each beacon provides a comprehensive history about the asset's usage and movement, including exceptions, such as when a rule is "broken" once it leaves this reader, or if it joins another reader. 'So if you click on a reader, you can see everything that's been in and out of that room, versus looking at it by beacon and where that beacon traveled," says Herrington. "From there you can actually get, for example, the temperature measurements and track that data over time."
The maps are completely customizable and the Trax platform is scalable; no matter the size and scope of your organization, there's a BLE solution for you.
Benefits
Asset tracking is going to propel companies into a workplace that is resource-savvy. Whether you're planning for safety, efficiency or maintenance, asset trackers tell you what you have and what you're using, as well as areas for operational efficiency. No more wasting time finding business tools or guessing at their level of utilization. 
"Let's say a company was trying to justify buying another forklift," says Herrington. "If there was an asset on every forklift, they could see that perhaps their existing forklifts were only being used 25% of the time, or were being stored in a place that no one knew about. Then they could plan their usage better, as opposed to just buying more forklifts." 
Similarly, asset trackers can prevent theft and unauthorized use of company assets. Beacons can be used to create digital boundaries and create alerts if an asset is taken or misplaced, increasing the likelihood of recovery and compliance.
Finally, asset trackers help reduce costs associated with repairs and maintenance. Readers that scan for battery levels, temperature or a number of other variables can ultimately help those assets operate more functionally and prevent avoidable, expensive repairs.
Want to know more? The ZenduIT team can help find the right solution for you. Contact us to learn more about Trax Indoor and how it can be implemented to solve your business needs.