Have you ever reviewed a service provider online? People usually base their reviews from service quality and service quickness. However, what do people think about a service provider's work order systems?
Most people would not think about work order systems at all. Why would they? After all, work orders do not go into people's homes and provide the actual service. So what's with the big fuzz?
What are work order systems?
Work order systems are actually one of the biggest drivers for customer happiness. They work behind-the-scenes to build good customer service foundations.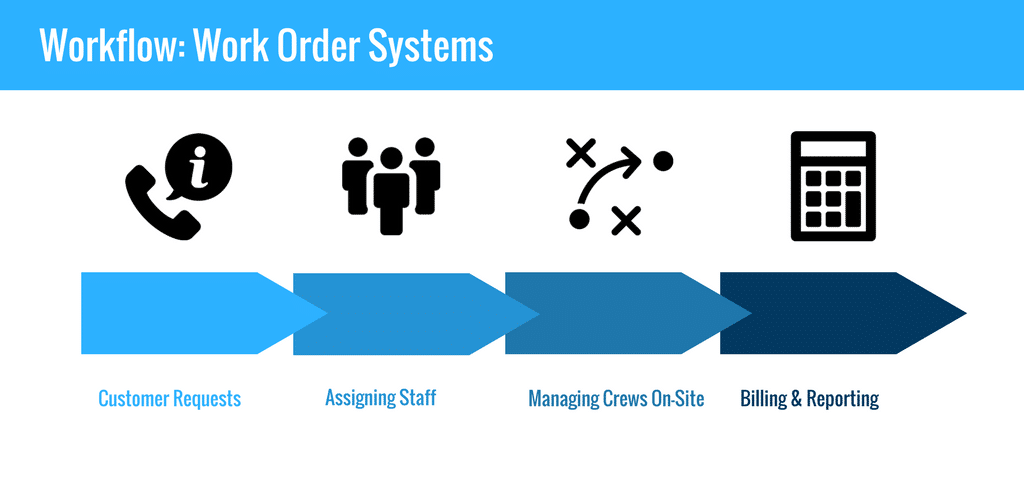 Not convinced? Take a look at how work order systems cover the entire customer experience. Work order systems have multiple steps, including:
Taking customer requests: Customers usually request a service by filling an online form or calling a service rep. Then, a business creates a work order to document the job's details.
Assigning staff: Next, the job is assigned to a service team. In order to assign a job, someone needs to set appointments onto a service team's schedule.
Managing crews on-site: Even when service crews perform the service, there are more work forms. For example, crews might need to record their work time or collect customer signatures.
Billing and reporting: Finally, to finish the service cycle, there are work orders for billing and reporting. Service providers complete forms to create customer invoices and accounting reports.
Let's take a look at how a service provider improved its customer and staff happiness by transforming their work order process.
Case Study: Modernizing Work Forms
We'll take a look at ExampleCo, which is a real-life service company with a fictional name. ExampleCo provides in-home services by installing and servicing equipment for people with disabilities.
Before: Challenges with a Clunky System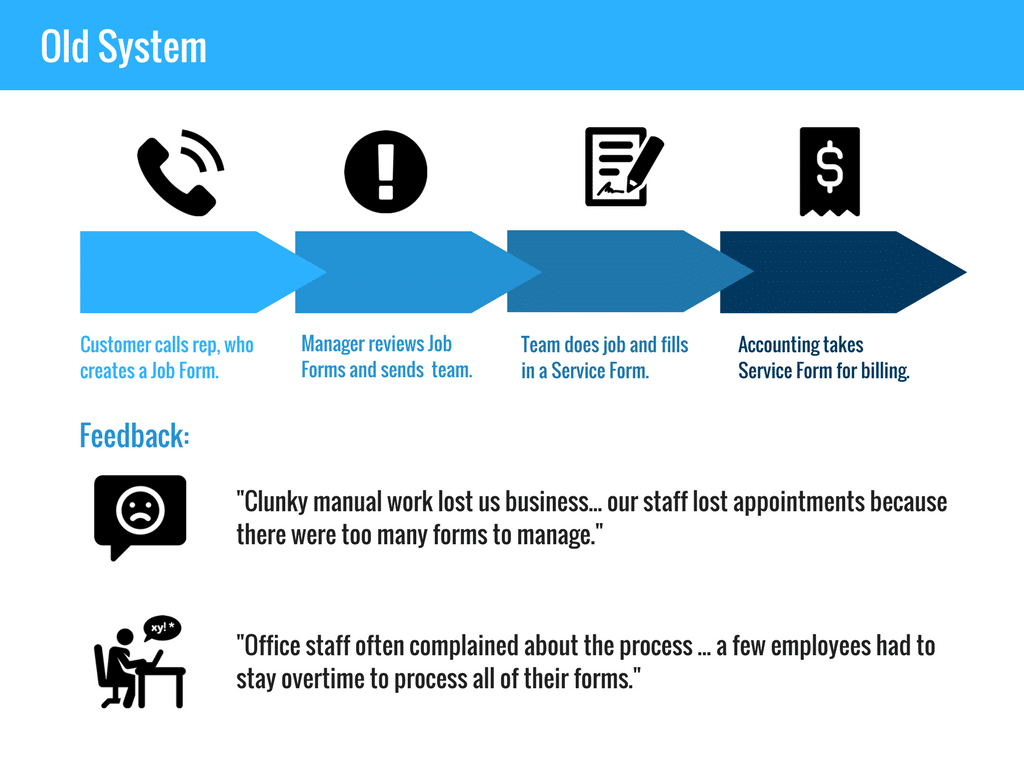 ExampleCo was using an outdated manual process. Here was their workflow:
A customer connects with a company rep by calling them or filling in an online form. The rep then completes a Job Form by filling in an address and scheduling an appointment time.
A service manager reviews all Job Forms and then schedules a team to attend each appointment.
The service team visits each site. After each job, the Team Lead fills in a Service Form to detail service time and collect customer signature.
Finally, accounting staff collects Service Forms to create customer invoices and enter transactions.
Feedback
According to an operations manager, their process "bitterly failed". His team faced several challenges.
Customer Complaints
Firstly, there were a lot of customer complaints. The business received online reviews such as "We set an appointment but no one showed up!" and "We were billed for more than double of the actual work time".
"Clunky manual work lost us business," said an operations manager. "I would be angry too if I was a customer. Our staff lost appointments because there were too many forms to manage."
Unhappy Staff
Secondly, staff members were burdened by manual work. Accountants and customer service reps spent several hours every week going through Job Forms and Service Forms.
"Our office staff often complained about the process," said a manager. "Not only did they have to do repetitive work, they also had to do it quickly. I noticed that a few employees had to stay overtime to process all of their forms."
The Change: Modernizing with Work Order Software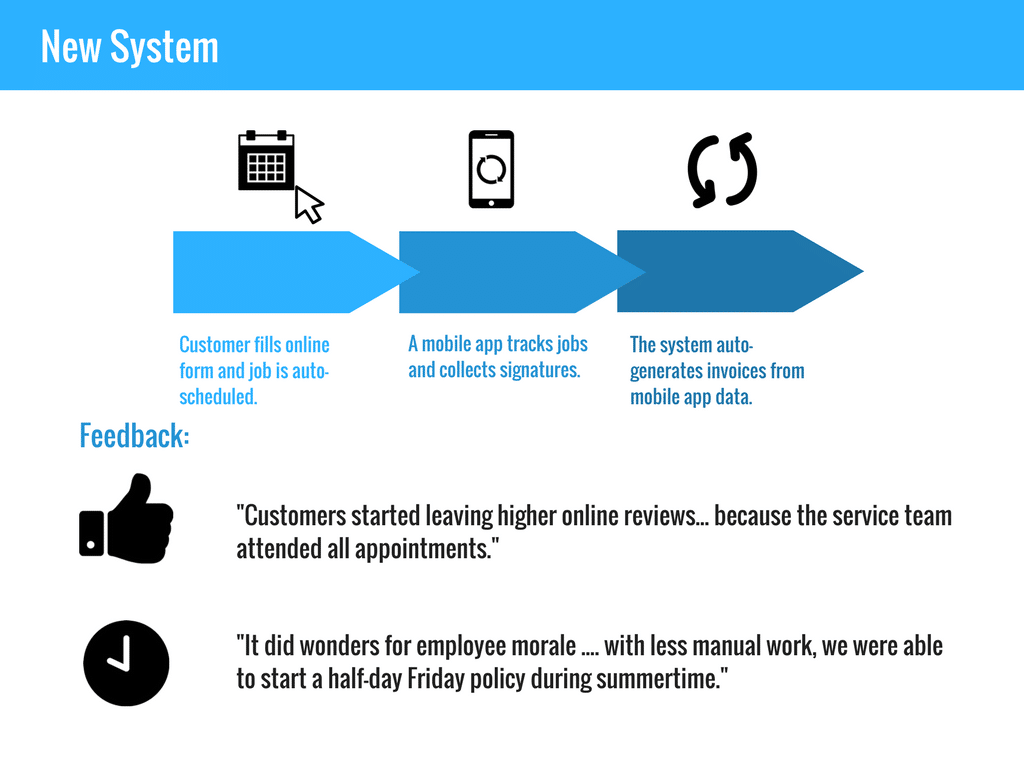 ExampleCo decided to use work order software to modernize their workflow. The new workflow was much simpler:
Firstly, a customer enters an online form. Instead of using Job Forms, the system automatically schedules an appointment for a service team.
The service team receives the job on their phone's calendar. When they reach the customer, they can use their phone app to track job hours and collect e-signatures.
After the job is done, the system collects data and automatically creates invoices and accounting reports.Feedback:
"After everyone learned how to use the work order software, the changes were night and day." said the operations manager.
Happier Customers
Because the work order software automatically processed and scheduled jobs, service teams attended all appointments. Customers started leaving higher online reviews. "Not sure why there were so many bad reviews," commented a customer. "Our service was on time and they did a great job!"
Happier Employees
Also, employees were noticeably happier. They weren't burdened by forms and saved several hours per week. "The work order software did wonders for employee morale," commented a manager. "No one had to stay overtime. Also, with less manual work, we were able to start a half-day Friday policy during summertime."
Click here for a presentation slide on ZenduWork, a work order software.