During a time when distracted driving is at an all-time high, the need for the safe and quick arrival of first responders is critical. However, with so many vehicles on the road, emergency responders and roadway operators are at constant risk of being struck or involved in collisions. Not only can gridlock stop responders from being able to easily maneuver city streets, but distracted drivers may unknowingly put themselves in the way of responders. To help reduce this risk of collisions between civilian vehicles and first responders, responder-to-vehicle communication (R2V) and telematics technology is essential. 
How Does R2V Work? 
Responder-to-vehicle (R2V) communication technology allows different types of vehicles (emergency vehicles, tow trucks, maintenance vehicles) to communicate vehicle information. This can decrease the time spent travelling to a scene or an emergency through collision prevention and fleet interoperability. Typically, R2V is used to share information to help vehicles maneuver road conditions and reduce collisions. At the moment, the telematics information on emergency vehicles is integrated with R2V technology so that civilian drivers receive an alert when emergency vehicles are approaching. 
The need to use R2V technology to reduce collisions is becoming critical; within a 10 year period from 2000-2009, approximately 31,600 accidents involving fire vehicles and approximately 6,500 accidents involving ambulances occurred each year in the United States. Solutions like HAAS Alert's Safety Cloud® focus on this need to reduce emergency response accidents by using R2V communication technology, as brighter emergency vehicle lights and louder sirens don't seem to be effective in reducing collisions. By using cellular-based  technology, HAAS Alert has been able to successfully connect first responders and civilian vehicles to reduce collisions with a tool called "digital alerting". HAAS Alert's Safety Cloud service enables emergency responders to send audio-visual warnings to civilian drivers about the location of approaching emergency responders to reduce collisions. In fact, advanced warning systems such as digital alerting have been shown to reduce the risk of accidents by up to 90%.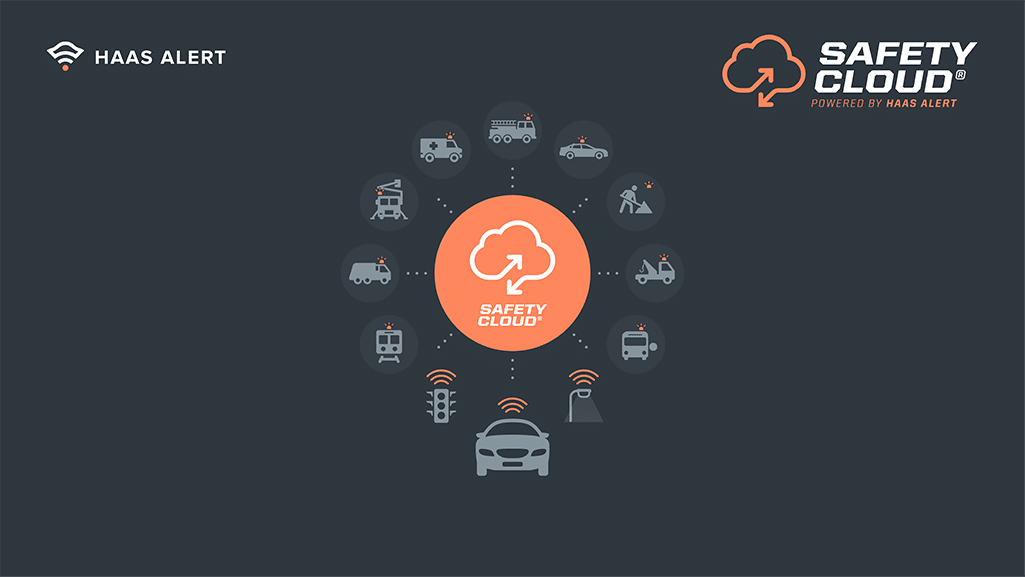 Telematics And R2V Technology In Use
While there are various collision prevention technologies available today, HAAS Alert is unique in the way it uses real-time telematics information to create and leverage its own network to boost safety. As mentioned previously it uses the locations of various vehicles to send warnings and alerts to automobiles in a specific geographical zone or proximity. 
Digital Alerting With HAAS Alert 
Safety Cloud is unique as its digital alerting process monitors emergency response and roadway assistance vehicles in two ways; vehicles that are in operation, and non-emergency mode vehicles. For vehicles that are in operation, these typically consist of stopped on-scene vehicles and moving vehicles that have their lights 'on'. When lights are triggered as being 'on,'   alerts are sent to other drivers in close proximity. For vehicles that are not in operation, the vehicle location can still be monitored by fleet managers, but the system's logic will know that the emergency lights are not enabled, and thus will not send out alerts to drivers – essentially making it invisible to the digital world.  This is an important feature as many vehicles can be stagnant (and don't require their emergency vehicle driver alerts to be actively alerting drivers) at vehicle headquarters like fire stations, training centers, and hospitals, and police stations.
It should also be noted that Safety Cloud is available through Geotab integration and requires no additional hardware.
What Fleet Managers See 
HAAS Alert allows fleet managers to see and record a lot of information related to the GPS location of their fleet, the active status of emergency lights engaged, or whether a roadway fleet has LED or amber flashing lights activated. Additionally, the dashboard fleet information can be used to share information to multiple jurisdictions and centralized traffic incident management centers. The solution also allows for teams to see historical (and real-time) data about trips or routes. With so much information, managers are even able to pull detailed reports on operating metrics, response times and more.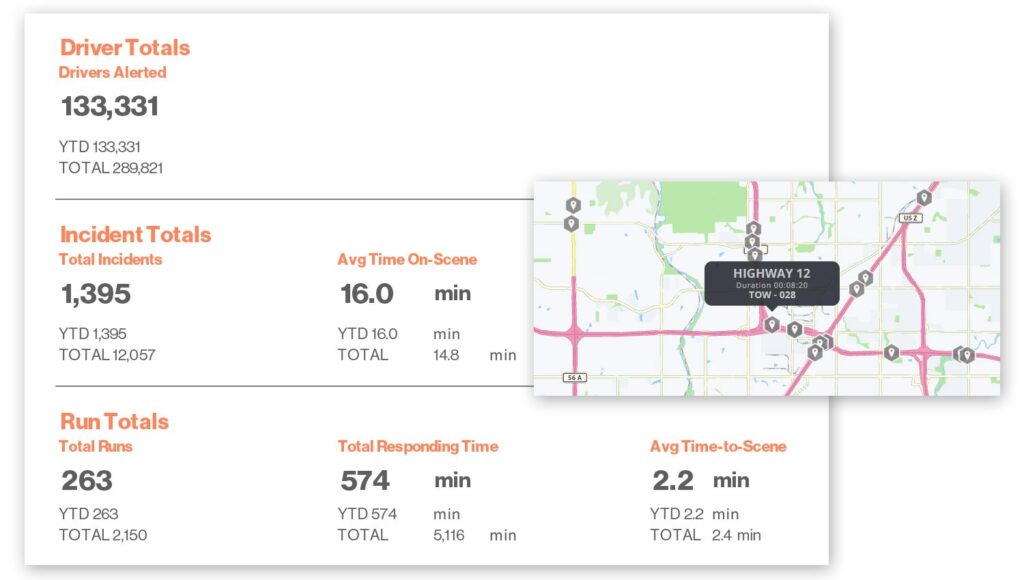 Collision Prevention Technology With R2V And GPS Mapping Applications 
Improving situational awareness is critical as concerns related to distracted driving continues to increase. Often, louder sirens and brighter lights are not always successful at gaining the attention of drivers. So to help combat distracted driving and increase safety when first responders and roadway operators are in movement, HAAS Alert can also be integrated with mapping and GPS applications. 
What Civilian Drivers Can See With HAAS Alert
Waze for example is a GPS mapping application that is currently integrated with HAAS Alert and has well over 130 million total users globally with at least 30 million in the US alone. The integration allows for Safety Cloud-equipped fleets to automatically notify drivers on the Waze app when teams are responding to calls and enables managers to track where they are in real-time. Meaning, a driver's attention is quickly directed back to the road via push notifications in Waze. Not to mention, since Waze is a GPS routing application, it can also be leveraged to redirect traffic away from the location that first responders are trying to travel to. Resulting not only in fewer civilian and first responder accidents, but faster response times as unnecessary vehicles can be redirected out of the area.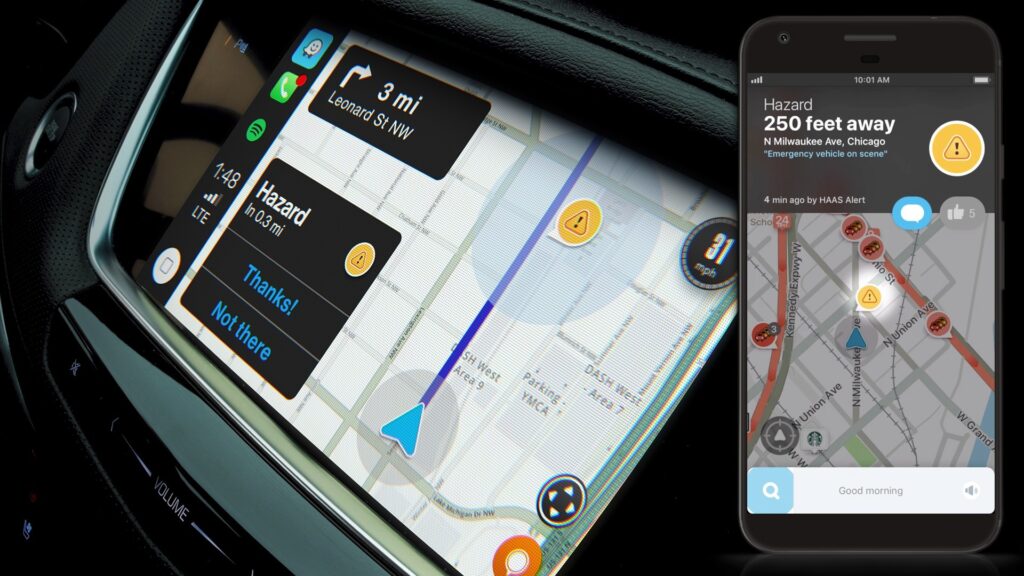 Where Is Your ROI? 
But how is this important for fleets? R2V communication technology allows for fleets to immediately increase safety as the ROI of stopping even one accident is immediate. Accidents can cost hundreds of thousands (if not millions) of dollars when fleets factor in operational time lost, repairs, insurance costs, medical fees and legal expenses. Not to mention when the Safety Cloud is paired with GPS route optimization, government vehicles are spending less time slowly maneuvering through traffic which means less idling and faster arrival times. Which for fleet managers, equals cost savings when it is ongoing. 
Interested to learn more about pairing R2V communication solutions with Safety Clouds like HAAS Alert? Contact us today to speak with a consultant so your fleet can leverage telematics intelligence to move safer and faster.